Leave early at the weekend and you can get to stunning countryside in a hour and a quarter by car. This walk has wonderful views across the weald of Kent. We try to walk along the Greensand ridge every spring to see the bluebells, banks of other wild flowers and be immersed in bird song.
This walk is 4.5 miles and takes 2 hours but easily extended if you want a longer walk as the area is laced with footpaths.
The Weald of Kent from Ide Hill
Blue Bells at Ide Hill
How to Get there
We go via the Blackwall Tunnel to the M25, follow the A21 as it splits off the M25 around junction 5 and then take the turning for Westerham. At Sundridge traffic lights take a left to Ide Hill. Once there go right through through the village and when you hit the main road, spectacular views unfold, turn right and immediately on your right is a parking area, with toilets and recycling bins. This is where we usually park.
Tea, Cake and all that.
Ide Hill Community Shop is at the back of the car park above and serves tea, cake and when we arrived in the morning also had bacon rolls.
Back in the village is a picturesque 18th century pub, the Cock Inn, with inglenook fireplace.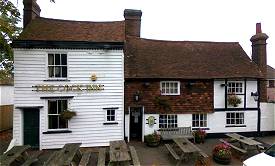 Cock Inn at Ide Hill
The Walk
The Ordnance Survey explorer map is 147 Sevenoaks and Tonbridge. This weekend I forgot the map, but we found this walk on Kent Ramblers site which was pretty easy to follow on the iphone, the parking place above is marked by the toilet sign.
http://www.kentramblers.org.uk/KentWalks/public/walk_021.htm
View of Ide hill from Scords Wood
.
Walking towards another bluebell carpeted wood.
I've indulging myself by posting pictures of the wildflowers we came across. I'm trying to commit their names to memory, trickier than I'd though as they seem to have attracted around 10 common names each over the centuries.
Wild garlic/ransoms/buckrams/bear leek
Wild Arum/Snakeshead/Lords and Ladies/Devils and Angels/Cuckoo-pint/Jack in the pulpit
Yellow Dead Nettle/Yellow Archangel/Weasel Snout with I think Ground Ivy/Creeping Charlie/Run Away Robin
Blue bells and Lesser Stichwort
Primroses, Celandine and Bluebells
Geology and History
The topography of Kent all made sense when I discovered this diagram on Wiki. Essentially a dome of different geological layers had risen up, the top eroded and the series of ridges which characterise Kent were created as the softer layers such as clay eroded more quickly than the harder layers of sandstone and chalk.
The Weald is an Old English name meaning forest with West Saxon origins. In Saxon and early Norman times it was heavily wooded. Pigs would be herded into the forest and onto the hills in autumn to snuffle for acorns and beechmast.